Today, we'll be "nailing it" by testing two candy-cane-shaped retro bakes: Candy Cane Coffee Cake & Candy Cane Cookies.
While I'm posting and transcribing the original recipes I've rediscovered online, the goal of the project will be to "Modernize" these recipes to our liking.
For the Candy Cane Coffee Cake, we'll likely halve the recipe. And we'll swap out the candied cherries with whiskey soaked dried cherries, or we'll replace the filling entirely with a simple St. Dalfour juice-sweetened jam or a combo of jam and sweetened cream cheese.
For the Candy Cane Cookies, since NONE of us are keen on almond extract, we might just blow everyone's mind by using some lemon juice or peppermint extract, or divide the recipe and try half of each!
Let me be clear: These are not my recipes. And I am not including them in the SSJ Recipes Index. I haven't even tested them yet! And we'll be tweaking them before we even test them! So, I can hardly recommend them!
Also note: the point of the exercise is not to make something picture perfect, but to have fun messing around in the kitchen!
Below, you'll find images and write-ups of the classic recipes I found online, drawn from long out of print Betty Crocker recipe card sets and cookbooks from the 1970s, the household standard, back in the day. I'll post our updates/reviews below each recipe as they become available.
How would YOU tweak these retro recipes for Advent 2020?
---
CANDY CANE COFFEE CAKES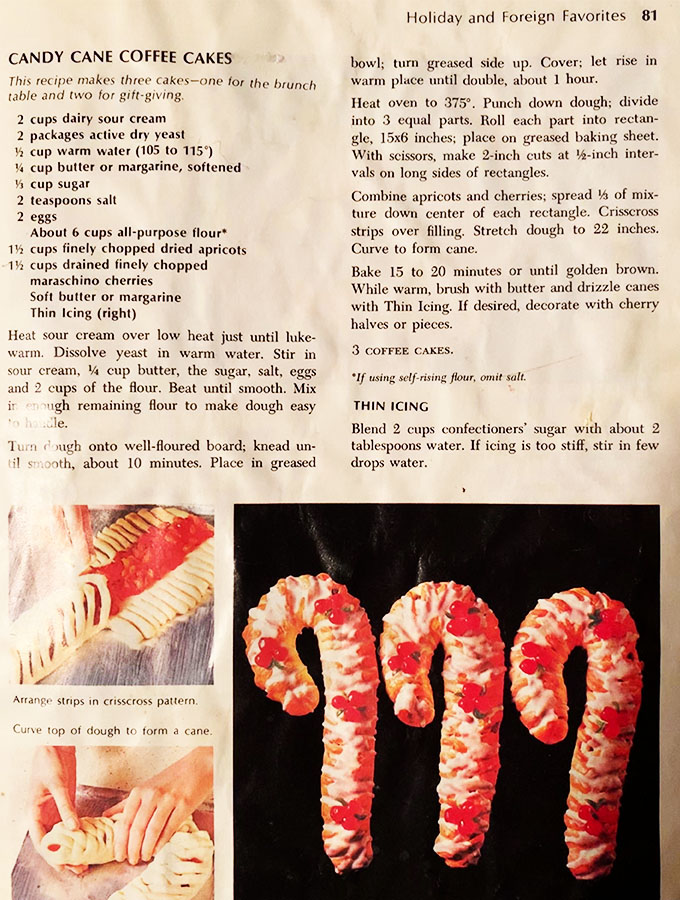 Print Recipe
Retro Recipe: Candy Cane Coffee Cakes
Ingredients
2

cups

dairy sour cream

2

packages

active dry yeast

[4 tbsp]

1/2

cup

warm water

105 to 115 degrees F

1/4

cup

cup butter or margarine

softened

1/3

cup

sugar

2

teaspoons

salt

2

eggs

6

cups

all-purpose flour

about

1 1/2

cups

finely chopped dried apricots

1 1/2

cups

finely chopped maraschino cherries

soft butter or margarine
Thin Icing
2

cups

confectioners' sugar

2

tablespoons

water
Instructions
Heat sour cream over low heat just until lukewarm. Dissolve yeast in the warm water. Stir in sour cream, butter, sugar, salt, eggs and 2 cups of the flour. Beat until smooth. Mix in enough remaining flour to make it easy to handle.

Turn dough onto well-floured board; knead until smooth, about 10 minutes. Place in greased bowl; turn greased side up. Cover; let rise in warm place until double, about 1 hour.

Heat oven to 375°F Punch down dough; divide into three equal parts. Roll each part into a rectangle, 15 x 6 inches; place on greased baking sheet. With scissors, make 2-inch cuts at 1/2-inch intervals on both long sides of the rectangles.

Combine apricots and cherries. Spread 1/3 of the fruit mixture down center of each rectangle. Crisscross strips over filling. Stretch dough to 22 inches. Curve to form cane.

Bake 15 to 20 minutes or until golden brown. While warm, brush with butter and drizzle canes with Thin Icing. If desired, decorate with cherry halves or pieces.
Thin Icing
Blend 2 cups confectioners' sugar with about 2 tablespoons water. If icing is too stiff, stir in a few drops water.
Notes
©Copyright? Betty Crocker? General Mills? 
UPDATE | REVIEW
Decent! We'll keep the dough recipe for cinnamon rolls.
We all agreed, we wouldn't call this a coffee cake, we'd call it a "yeasted danish." Coffee cake, to us, means a traditional "cake" with a crumb and streusel topping. As a "yeasted danish, " something akin to a cinnamon roll's jam-filled cousin, it works. What changes did we make to the recipe? First, we halved the recipe and made one large and one mini candy-cane "danish" with 2/3 and 1/3 of the reduced recipe, respectively. Second, we swapped the fruit filling for a combo of 3/4 cup Dalfour Strawberry jam and 1/4 cup butter bits in one layer and 1/2 cup cream cheese sweetened with 1/4 cup sugar in a bottom layer. Third, we ended up adding a second serving of the icing [which needed double the water] AFTER the cake cooled completely. Why do they call for a warm application? Results: Our large candy-cane did not stay "woven" and burst at the seams, creating a really danish-looking danish. We criss-crossed our mini to the extreme to avoid a rupture on a second go. Did we enjoy the cake? Yes! Will we make this recipe again? Probably not. But we WILL keep the dough recipe to use for cinnamon rolls.
---
CANDY CANE COOKIES
Print Recipe
Retro Recipe: Candy Cane Cookies
Ingredients
1/2

cup

butter or margarine

softened

1/2

cup

shortening

1

cup

confectioners' sugar

1

egg

1 1/2

teaspoons

almond extract

1

teaspoon

vanilla

2 1/2

cups

Gold Medal flour*

1

teaspoon

salt

1/2

teaspoon

red food color
Instructions
Heat oven to 375°. Mix thoroughly butter, shortening, confectioners' sugar, egg and flavorings. Blend in flour and salt. Blend food color into one half.

Shape 1 teaspoon dough from each half into 4-inch rope. For smooth, even ropes, roll them back and forth on lightly floured board. Place rope side by side; press together lightly and twist. Complete cookies one at a time. Place on ungreased baking sheet; curve top of cookie down to form handle of cane. Bake about 9 minutes or until set and very light brown. If you wish, mix 1/2 cup crushed peppermint candy and 1/2 cup granulated sugar. Immediately sprinkle cookies with candy mixture; remove from baking sheet. About 4 dozen cookies.
Notes
*If using self-rising flour, omit salt. If using instantized flour, stir 2 tablespoons milk into butter mixture.
©Copyright 1971 by General Mills, Inc. All rights reserved. Printed in U.S.A.
UPDATE | REVIEW
DON'T BOTHER!
Reader, we put them in the compost bin! What changes did we make to the recipe? First, we swapped the shortening for cream cheese. Was this our downfall? I kind of don't think so?? Second, we divided the dough into halves and flavoured one half with 1 tsp peppermint extract and the other half with 1 tsp lemon extract and 1 tbs fresh lemon juice. Third, we coloured half of our lemon batch [1/4 of the entire recipe] with yellow food colouring instead of red. [And yes, the lemon got twisted with the lemon, and the peppermint with the peppermint. No mixing!] Result: With no visual instruction, the cookies were a pain to roll and shape, but we think we "nailed" the lewk. Did we enjoy the cookies? No! T and I tasted them together and we spit them out! Both types! They tasted like soft cardboard, flavoured with either mint or lemon. Will we make this recipe again? Absolutely not! Not as we tweaked it, and certainly not with shortening! Though, I have to say, the hilarious taste-testing was still loads of fun!