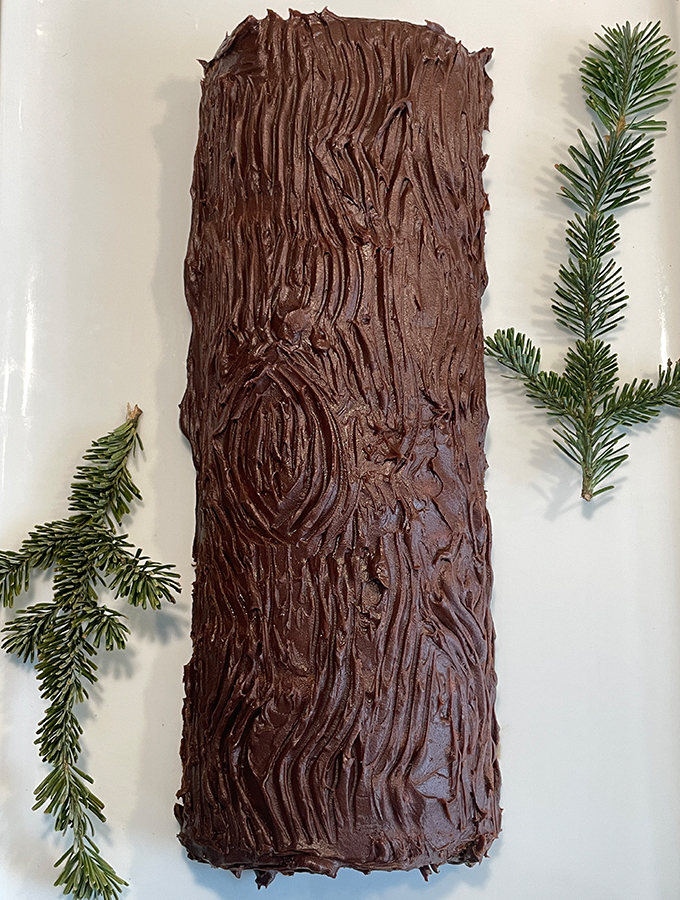 Rehrücken Bûche de Noël
We just wanted to make this cake because of the name, right?
Reh-Roo-Ken-Boosh-De-No-Ell!
Reh-Roo-Ken-Boosh!
Reh-Roo-Ken-Boosh!
Every year, I make a Bûche de Noël for our Christmas Eve or Chrsitmas Day Dessert.
[My faves are probably the Cannoli and the Lemon Mascarpone!]
But not all Bûche need to be in the form of a Swiss Roll!
Recently, when shopping for cylindrical baking pans for a bread-making project, I came upon the half-cylinder Rehrücken pan. Planning on clamping two of these bad-boys together with binder clips to bake a cylindrical loaf, I purchased a pair! [And they worked with my brioche! More on that, perhaps, after the holidays…] Once home, I investigated the cake the pan was designed for: the Austrian Rehrücken, an almond torte baked in a half cylinder, sometimes glazed in warm fruit jelly, then iced in chocolate, and studded with almond slivers.

The whole cake is styled in order to look like…I shit you not…A Roasted Saddle of Venison! That's what "Rehrücken" means, Saddle of Venison! Such delicious humour!
Of course, I realized, this pan is perfectly shaped for a yule log, without the muss and fuss of a Swiss Roll! So, I tested several Rehrücken recipes until I came up with my own sweet adaptation. My "Rehrucken Bûche" retains the flavour of the classic Almond Torte, iced with chocolate, but abandons both the almond slivers and the optional fruit glaze. Instead, we run our fork tines through the icing to create a few "knots" and the bark of the classic Yule Log. This year, no meringue mushrooms, or peeling bark made of bashed slivers of chocolate….we're keeping it simple with this small, iced almond torte, complemented with a few bits of pine from our Fraser Fir. [We'll burn these pieces of evergreen later, under rocks glasses, for smokey cocktails!]

UPDATE #1: Here's our Cake!
UPDATE #2: We made a traditional Rehrücken for Family
Because we've had to cancel plans with family for the holidays, we went ahead and made a traditional Rehrücken to drop off with family before Christmas Eve Mass! Here it is!! [There's more photos below!]
Without further ado….Here's the recipe!
---
Rehrücken Bûche
Print Recipe
Rehrücken Bûche de Noël
A Simple, Glorious Rehrücken [Almond Torte] dressed up for Christmas.
Recipe may be doubled.
Equipment
Rehrucken Pan [12-inches long]
Ingredients
Cake
3

oz

semi-sweet or bittersweet chocolate

[or approx heaping ⅓ cup chocolate chips]

4

eggs, separated

⅓

cup

sugar, divided in half, plus more for preparing the pan

6

tbs

unsalted butter, plus more for preparing the pan

[6 tbs is ¾ of a U.S. sized stick of butter, which measures as ½ cup, Canadian butter is most often packaged in 2 cup blocks]

½

tsp

vanilla extract

⅓

cup

ground ladyfingers, [about 4], or breadcrumbs

[Gluten-free ladyfingers or breadcrumbs may be used to make this dish celiac-friendly. If you can't find either, add the equivalent in almond-meal.]

⅔

cup

almond meal or freshly ground almonds

½

tsp

cinnamon

¼

tsp

salt
Optional Jelly Layer [For Traditional Rehrücken]
1/2

cup

Red Jelly, such as Strawberry, Currant, or Raspberry

[We used Dalfour Strawberry in our tradiaional cake. Blitz chunky jam with a hand blender if necessary!]
Icing
3

oz

semi-sweet or bittersweet chocolate

6

tbsp

unsalted butter, divided into tablespoons

½

tsp

vanilla extract

[Optional]
Decor [For Traditional Rehrücken]
⅓

cup

slivered blanched almonds

[Ror a traditional Rehrücken, not required for the Bûche de Noël]
Instructions
CAKE
Preheat the oven to 350°F.

Prepare the Rehrücken pan by buttering it and dusting it with sugar.

In a bowl set over a pot of boiling water, melt the chocolate and then set the bowl aside to cool.

If you have not yet done so, place the ladyfingers. into a sealable bag and pound them with the flat end of a meat cleaver to crumb.

In a small bowl, combine the ground lady fingers, almond meal, cinnamon, and salt and set aside.

Separate the eggs, placing the whites in the bowl of a stand mixer and setting aside the yolks.

In the bowl of a stand-mixer fitted with the whisk, or by the whipping method of your choice, bring the 4 egg-whites to a soft peak.

Add half of the sugar [⅙ cup] to the egg-whites and continue to beat until eggs come to a stiff peak.

Ease the egg-whites into a large bowl with a spatula and place the now-empty bowl of the stand-mixer back in place. [There's no real need to clean it. Though the whisk attachment can go right in the wash.]

Fit the stand-mixer with the standard flat beater.

Place the butter and the remaining sugar [⅙ cup] in the bowl of the stand-mixer and mix until creamy and fluffy.

Beat in the cooled, melted chocolate until combined.

Beat in the egg yolks one at a time, followed by the vanilla, until combined.

Beat in the almond-meal mixture until combined.

Add about 1 cup of the beaten egg-whites to the mixture and beat until combined.

Remove the mixing bowl from the stand-mixer and add the remaining egg-whites to the batter with a spatula.

Spread the batter into the prepared Rehrücken pan, using a spatula or icing spreader to distribute the batter evenly.

Bake the cake on the centre rack for approximately 40 minutes.

Allow the cake to rest in the pan for 10 minutes before upturning and cooling on a wire rack.

Cool the cake completely before icing.

[Cake may be stored well-wrapped at room temperature for up to 3 days before preparation or frozen for up to a month. Cake need only be approximately ⅔ defrosted before icing.]
JELLY [for Traditional Rehrücken]
Bring the 1/2 cup of jelly to a boil and then immediately turn to low heat, simmering for 5 minutes until it thickens slightly. [Chunky jam may be blitzed with a hand blender]

Coat the cooled cake with the jam using a pastry brush and allow to cool for the 30+ minutes it takes to make and cool the icing.
ICING
In a small saucepan, over very low heat, melt the chocolate and 1 tablespoon of the butter, whisking until combined.

Turn off the heat and add the remaining butter by the tablespoon [and the optional vanilla], whisking until thoroughly melted and combined.

Pour the icing into a small bowl, cover, and refrigerate for approximately 30 minutes.

Ice the cake with an icing spreader or a good butter knife.

Drag a fork through the icing to replicate the look of bark and knots.
DECOR [for Traditional Rehrücken]
Stud the cake with almond slivers to replicate a roast saddle of venison!

CAKE MAY BE REFRIGERATED TO FIRM THE ICING, and is best served slightly chilled, 2 hours to 2 days after preparation. Iced cake may also be wrapped and frozen for up to 1 month.
Notes
I purchased my nonstick Fox Run Rehrücken Pan [Fox Run Product #44515] at Placewares in Toronto's St. Lawrence Market for approximately $11 each. These pans are relatively easy to find online. The similar Nordicware model is often advertised as a cinnamon loaf pan.
I used 4 of these Vincenzovo ladyfingers, which I found at my local supermarket. I believe this company also produces a gluten-free product. 
This recipe adapts those of Nick Malgieri, How to Bake and Lilly Joss Reich, The Viennese Pastry Cookbook: From Vienna with Love.
Here's a photo of the traditional cake we made as a gift for family: