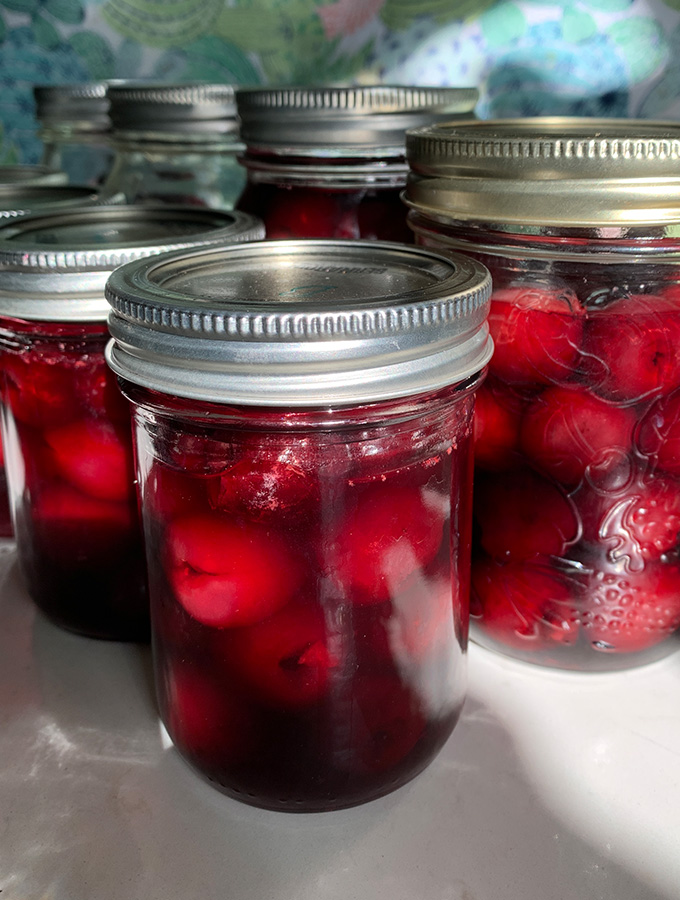 ---
SKIP TO RECIPE
---
One of the goals I set for my epic 2020 to-do list? Make more preserves and pickles than last year! Along with my killer marmalade [Fait accompli!] the makings of a good Manhattan have been top of mind.
Last weekend, after procuring three small bags of organic sweet cherries, I bought myself a good cherry pitter, sterilized my jars, topped up the sugar container for an epically good cause, and raided the bar cart. The results? Six pints of boozy cocktail cherries: three Bourbon and Cointreau with a hint of Cinnamon and three Rye with a hint of a Maple. [I would have had 6.5 pints, but, well, read on…]
Why does everything during this pandemic seem so MAGNIFIED? My recipe is SOLID. But this Saturday's canning session was smooth sailing and not-so-smooth sailing.
The good:
Happiness is a fabulous cherry pitter? The OXO Good Grips Cherry and Olive Pitter* made swift work of 12 cups of cherries! I broke my right hand a few years ago. I play piano. And I like to write first-drafts by hand. So, I was quite pleased with how little squeezing I had to do and with the soft grip. I'm usually skeptical of specialized kitchen tools, but this one's golden!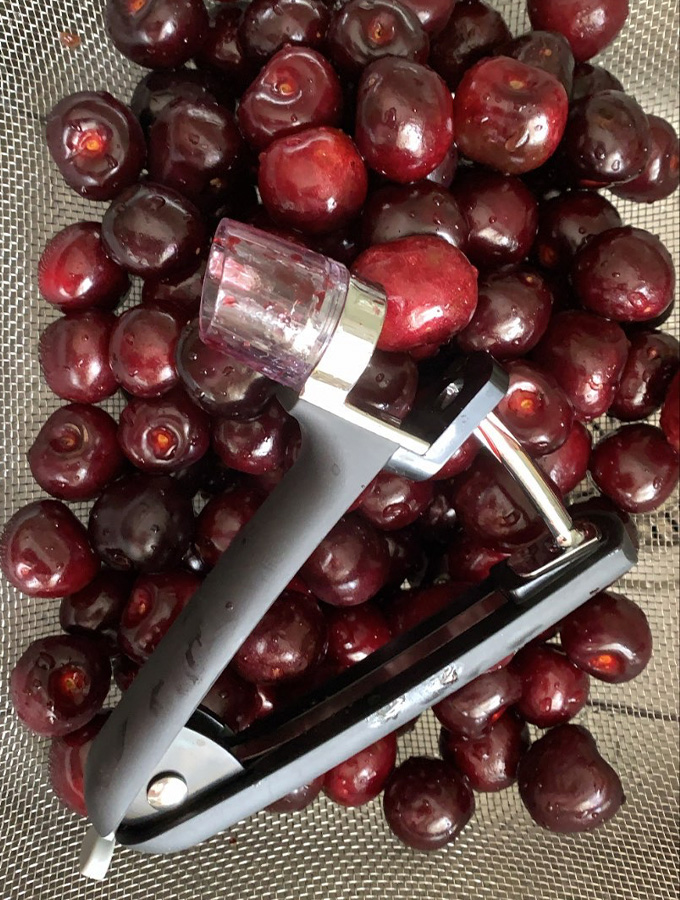 Also good? The ease with which my recipe comes together. Canning fruit is SO MUCH EASIER than making jam! You simply make a light syrup, put your pitted cherries in the jar, add some booze, top up with syrup [leaving about double the headspace than for jams/jellies, mind you], and, assuming you want to your cherries to have a shelf life, process them in a hot water bath.
Then, there were the circumstances BEYOND my control:
Canning requires a certain amount of caution and precision. Even so, losses happen. This Saturday, as I was pulling the LAST jar of my FIRST batch of boozy cherries out of the water-bath (and thank goodness it was the LAST of the jars!) I had a break. The bottom of the mason jar split off cleanly from the rest of the jar. A half-pint of Rye & Maple Cherries released themselves into my water-bath. Not only had I lost my precious ingredients, I had to let the water and the pot cool enough to handle before I could dump it into the sink, wash and refill, and wait for it to come to a boil again.
I really dislike those few instances in which canning feels wasteful. May they be as minimal for you as they have been for me!
Then, on my second go-round, one of my jars was leaking from the rim as I pulled it out. Now, a leaking jar does not mean that it won't eventually seal, once the contents of the jar settle down and it begins to cool. While leaking may be a sign you've left too little head-space at the top, if the lid seals as it cools and makes that magic popping noise, you're good. [Though, on balance, it's probably better to use it sooner rather than later.] However, this was MAJOR spillage.
I am not one to take chances. And I didn't want to have to use this larger pint straight off. [I've still got name-brand open in the fridge]. So, into a new jar with a new lid the cherries went. I topped them up with a bit of extra syrup and booze and bathed them again. This jar won't be giftable, as the cherries may be a bit softer due to longer processing time, but at least I know they can sit on the shelf for a year or two before I crack them open! Uggh. More work!
Still, now I have 6 pints of cocktail cherries! As much as I envision ALL of these babies going into cocktails in the stormy winter months, I also have a fantasy of a very indulgent banana split: three different flavours of ice cream, hot caramelized bananas, fresh vanilla whipped cream, and a boozy cherry on top of each scoop.
I keep thinking of Christmas, too. And what a lovely gift these cherries [or jars like them ;)] will make. I'm feeling downright lockdown-hoardy with my six pints…So, I guess I'll have to make some more before the window for fresh cherries passes. [And design some fancy labels!] I might also do the same with my backyard serviceberries! We rarely have enough for jam…but a few quarter-pints of brandied saskatoons? Just try and stop me.
ENJOY!
Print Recipe
Boozy Cocktail Cherries
Choose your own spirits to add to your preserved sweet cherries!
Equipment
3 pint or 6 half-pint mason jars or a mixture thereof, sterilized and warm, with clean rims, and new lids

Canning Equipment: Large Canning Pot, Metal Rack, Tongs, Funnel, Ladle

Cherry Pitter

Heavy Bottomed Non-Reactive Pot and spoon for making syrup
Ingredients
6

cups

Fresh Sweet Cherries

stemmed and pitted

1 3/4

cups

Sugar

3 3/4

cups

Water

1/4

cup

Lemon Juice

[bottled is acceptable]

3/4+

cup

Spirits

[I used straight Rye for my Maple Rye batch and a 2:1 ratio of Bourbon & Cointreau for my Bourbon Cointreau Cinnamon Stick batch. You might also try Brandy, Gin, Rum, or Vodka, adding a bit of Campari, Nonino, or St. Germain etc at a similar or lower ratio.]

1/4

cup

OPTIONAL: Maple Syrup

[for Maple Rye Option]

3-6

OPTIONAL: Cinnamon Sticks, 1 per jar

[For Bourbon Cointreau Cinnamon Stick Option. You might also try star anise or cloves, but I would not recommend placing the anise in the jars after boiling with the sugar.]
Instructions
Sterilize the mason jars and warm the lids. [I like to keep my sterilized jars in a slightly warm oven so that when they are filled with the hot liquid, they do not suffer shock.]

Clean, stem and pit the cherries.

In a pot over medium heat, combine the sugar, water, lemon juice, and, if using, the maple syrup and/or cinnamon sticks.

Stir this mixture hard until the sugar dissolves and then bring up to a gentle boil.

If using, transfer the cinnamon sticks to the warm jars.

OPTIONAL STEP [COOKED CHERRIES]: If you don't want to risk the cherries shrinking during the canning process, add the cherries to the pot, bring to a simmer and simmer on low for 5-7 minutes before proceeding. THIS IS NOW MY PREFERRED METHOD [AS OF SUMMER 2021].

Pack the cherries into the jars fairly firmly but without crushing, leaving about 3/4 in headspace in the top. [Use a slotted spoon if you've cooked the cherries before canning.]

Add 1/8 to a 1/4 cup spirits to each pint jar, 1/16 to 1/8 cup to each half-pint jar, or 1 tbs to each quarter-pint jar.

Top the jars with your sugar-syrup, leaving about 1/2 inch headspace at the top of each jar. [This is more headspace than when canning jams!]

At this point, if you don't want to properly can your cherries in a boiling water bath, allow them to sit on a counter and cool. Then, refrigerate for two weeks before opening. Consume within 6-8 weeks after opening.

Seal the jars with lids and rims and process in the boiling water bath for 25 minutes.

Take the top off of the canning bath, turn off the heat, and leave the jars to sit in the canner for 5 more minutes.

Remove the jars upright from the canner, place on wire racks or a protected surface, and allow to cool completely. Check for a good seal on the lid. Gently remove screw caps. Wipe and dry the jars and replace the rims [not too tightly.]

Label and store in a cool dark place. Leave the jars for at least 2 weeks before sampling. Properly canned, they will last for 1-2 years on the shelf before opening. Once opened, store in the refrigerator.

TROUBLE SHOOTING:Within 24 hours: Jars which did not seal may topped up with additional cherries and hot syrup to the proper headspace, topped with fresh warm lids, and reprocessed, warm, for 15 minutes plus the additional 5 minute cool.Jars in which cherries have settled too much to be visually appealing or to make a substantial gift [3/4 of the jar for 1/2 pint or 2/3 jar for 1 pint] may be warmed in their syrup, placed in smaller jars, or combined into larger jars, topped with additional fresh hot syrup to reach the required headspace, topped with fresh lids, and reprocessed for 15 minutes plus a 5 minute cool.If you do not wish to reprocess and risk a slightly softer cocktail cherry: place jars in the refrigerator and allow flavours to mingle for approximately 2 weeks. Once open consume within 6-8 weeks.
Notes
You may have syrup left over after filling your jars. Enjoy it in a glass of seltzer or a mixed drink! 
The liquid in the jars will be boiling and bubbly once removed from the canner. As the jars cool, the bubbles should dissipate. 
You may see a bit of settling in one or many jars. This is normal. As long as you provided the right amount of headspace at the outset of canning, and as long as the cans have sealed properly, you should be fine! Fruit above the liquid mark may darken slightly. However, this should have no effect on the taste or consistency. You may wish to consume the settled jars first.  I neither refrigerate-and-use-promptly nor do I reprocess properly sealed jars in which the fruit has settled

unless

it has settled more than 3/4  of the jar [1/2 pint] or 2/3 of the jar [pint].  A good rule of thumb with canning is to err on the side of caution. Put that jar in the fridge and use it first, give it as a gift to friends and tell them to do the same, or combine and reprocess.
Within 24 hours of canning, if the fruit has settled more than desired, you may re-can in smaller jars or combine cherries in jars, re-seal, and re-process. You may have to make a bit more hot syrup to top the cherries properly to reach the required headspace. But that's easily done. When re-canning, warm the fruit in its syrup, place in warm sterilized jars with new warm lids. Reprocess for 15-20 minutes + 5 minute cool.  Your cherries may be slightly mushier after a second bath. But I've done this with some success, and none the wiser.
In my limited experience as a home cook, organic cherries have shrunk less than non. So it may be worth a splurge, here, if you're gifting.
This recipe follows the general instructions in the Bernadin guide to canning cherries in syrup. 
[*Note, I'm NOT sponsored by OXO and my new cherry pitter was NOT a freebee from a local shop. I am seriously impressed! I've linked to The Bay, here, but you can find this pitter at many kitchen shops and hardware stores!]