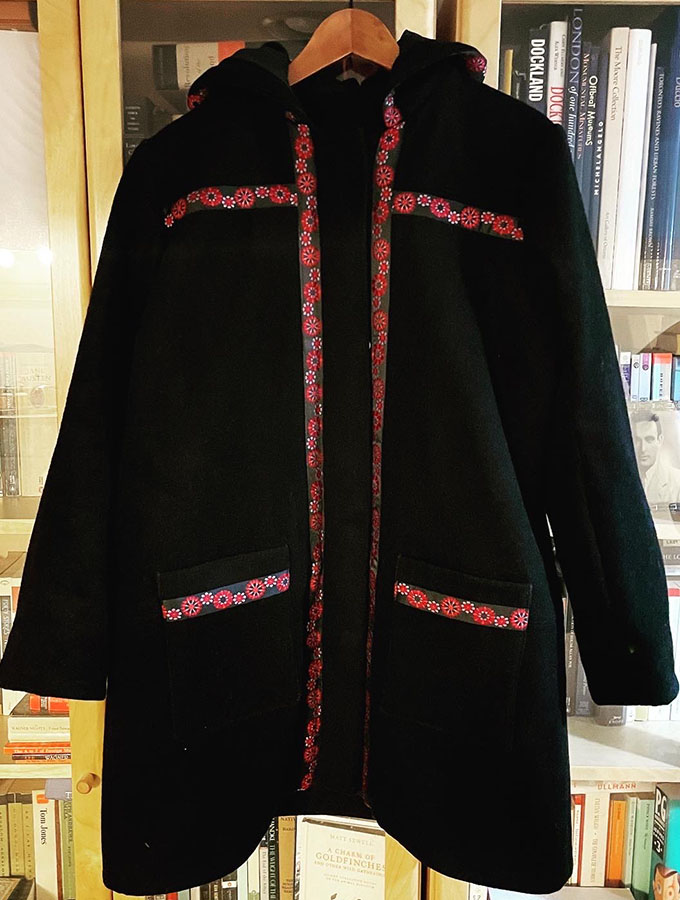 19 years ago, I took a long walk around our East End neighbourhood and stopped for one "last" lunch at the beach wearing my favourite roomy wool embroidered coat, a coat I'd had since I was 19. The next day, on the 19th, I became a mother. A while later, when that old coat became tattered and threadbare, I gave it away. But I could never forget it. One of my main Fall Planner2022 and Fall 2022 Sewing Playbook goals was to recreate that piece [pictured below] using the Grainline Studio Cascade Duffle Coat pattern and some lovely Brushed Wool Melton from Blackbird Fabrics.
And so I made an updated version, which uses ribbon instead of machine embroidery and has a hood! I don't think I've ever cried looking at a finished garment before. It's just…so many feelings, and so warm…I wore it ALL WEEKEND LONG on our trip to Montreal for our daughter's "champagne birthday," including as a cozy blanket on the plane, and while watching films with friends. It was perfectly warm in the very chilly weather. Even inside, I had a very hard time coat-checking it at the Restaurant L'express. And I refused to leave it at the coat-check of the Museum of Fine Arts, despite the insanely well-organized rack system.
To say that I have a deep deep bond with this jacket I made with so much love and in memory of so much love would be an understatement. I won't let it out of my sight. I can't keep it off of my body.
Sewing Details
Pattern:
Grainline Studio Cascade Duffle Coat, View B.
Fabric & Notions:
Brushed Wool Melton Blend in Black, from Blackbird Fabrics online.
Black Rayon Bemberg lining, from Affordable Textiles on Queen West in Toronto.
Interlining/cotton Batting, from MacFab on the Danforth in Toronto.
Ribbon, from my ribbon stash.
Magnetic Snap Kit, from a shop online some time ago.
Modifications:
Instead of using the toggles, I added magnetic snaps along the inside zipper placket/placket and on the underside only of the outside placket. I AM A SNAPS before all other closures kind of person!
I lined up the front pockets side-by-side and placed the ribbon straight across before I finished sewing them to their lining.
And I lined up the front pieces side by side and placed the front ribbons on the front upper seams before pinning and sewing.
Going somewhat rogue from the pattern instructions [which were excellent], I kept the zipper zipped and pinned to the placket, and the placket pinned to the coat as I added my magnetic snaps, and then, in order to make sure the ribbons lined up and all snaps and zips stayed connected, as I sewed the zipper and placket to the front side panels.
I added the optional interlining, which is lovely, warm, smelled like chocolate under the iron, and got fuzz all over EVERYTHING.
Decorated with ribbons as shown, all sewn on BEFORE adding the lining except for the hood, which went on after I lined it.
I sewed the arm seams on both the shell and lining at a 1/8 to 1/4 inch seam allowance, as, like a few other sewists whose projects I read about, I found the arms to be a bit narrow. There's no bicep measurement in the sizing or in the finished garment measurements. But other than that, the garment worked very well according to the size charts.
I broke 3 all purpose needles along the way, until I switched to a jeans needle. Ahhh.
And I'm still not done lint-rolling the melton, which got fuzzy from that chocolated interlining.
This coat took at least 36+ full hours to cut and sew. At my hourly rate, I'd say that's couture.