I launch my 2017 Advent Calendar on December 1st! As a bit of a countdown to the countdown, I'm featuring 12 Days of Holiday Baking. Today's recipe? Triple-Layer Chocolate Chunk Cookies
So, there's this bakery that the kids and I visit on the other side of town called Bread & Roses. And, we absolutely love their chocolate chunk cookies. They're crisp on the outside, softer in the middle, and filled with both chunks and shards of chocolate. Also, they have an interesting "square" shape, as if they've been knocked out of some sort of cookie press, like a spritz, only larger. My only "taste" issue with them is that, like many bakery cookies, they seem to be made with more shortening than butter.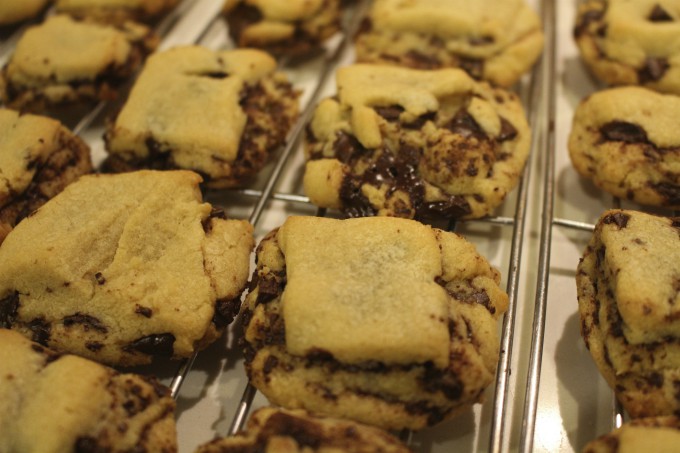 Trying to recreate these chocolate chunk cookies at home was no easy feat. They're obviously not a drop cookie, nor are they a true cut-out. Finally, I came across a recipe in Sarah Copeland's The Newlywed Cookbook which I tweaked a bit to suit our tastes. These Triple-Layer Chocolate Chunk Cookies are much like Copeland's Thousand Layer Cookie cut-outs, in that you create a cookie dough that's almost "laminated" like pastry. The dough is rolled into layers and stacked, sandwiching chunked and shredded chocolate bits. My recipe streamlines the process a bit by cutting the cookies into squares, omitting the cutting out and re-rolling required of Copeland's cookies, and by adding additional chocolate to the top of the dough, because, well, chocolate!
ENJOY!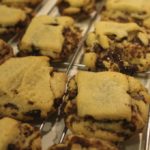 Print Recipe
Triple-Layer Chocolate Chunk Cookies
Ingredients
2 1/4

c

flour + more for work surfaces

1

tsp

baking soda

1

tsp

salt

1

cup

unsalted butter

room temperature

3/4

c

brown sugar

3/4

c

sugar

2

tsp

vanilla

4

egg yolks

10

oz

bittersweet

dark, or semi-sweet chocolate, rough chopped [divided into two 4oz and one 2 oz groups. The 2oz group should consist of more finely chopped bits, if possible.] 
Instructions
In a medium bowl, combine the flour, baking soda, and salt with a fork or whisk.

In the bowl of a mixer or by hand, beat the butter and sugars until smooth and fluffy.

Beat in the vanilla just to combine.

On low speed, beat in two of the yolks, followed by half of the flour mixture until combined.

Repeat with the other two yolks and then the rest of the flour mixture until just combined.

Transfer the cookie dough to a lightly floured work surface.

With your hands, divide the dough into 3 equal balls.

Flatten each ball and press it into a 4x6 inch (10.2x15.3 cm) rectangle.

Wrap each rectangle in plastic and refrigerate for 30-60 minutes.

Heat the oven to 375 while the dough is chilling.

Also, while the dough is chilling, chop your 10oz of chocolate roughly, dividing into two-4oz and one- 2oz group. The 2oz group should then be a bit more finely chopped than the other 8oz.

Flour a work surface or a large piece of parchment or wax paper [I use parchment].

Place one rectangle of dough on the floured surface or paper.

Sprinkle the rectangle with 4oz of the chocolate.

Top this with another rectangle of dough.

Sprinkle with another 4oz of the chocolate.

Cover with the last rectangle of dough, reserving the last 2oz of the finer-chopped chocolate. 

Sprinkle the top layer of dough with a bit of flour and cover with a second piece of parchment or wax paper [or just use a floured rolling pin in step 19, below].

With a rolling pin, flatten this layered dough into a 9 x 6 inch [23x15.25cm] rectangle that is almost 1.5 inches [3.8cm] tall.

Remove the floured parchment or wax paper, if using.

Sprinkle evenly with the remaining 2oz of more finely chopped chocolate.

Recover with the parchment or wax paper, if using, and gently roll the top, just enough to press the chocolate in a wee bit.

With a long, sharp knife, cut the rectangle into 24 1.5-inch [5-cm] squares.

Place the cookie squares onto parchment- or silpat-lined baking sheets, 2-3 inches apart.

Bake the cookies, one tray at a time, for 12-14 minutes, rotating after 6 minutes cooking time. Cookies will be light brown and set.

Cool completely on wire racks.