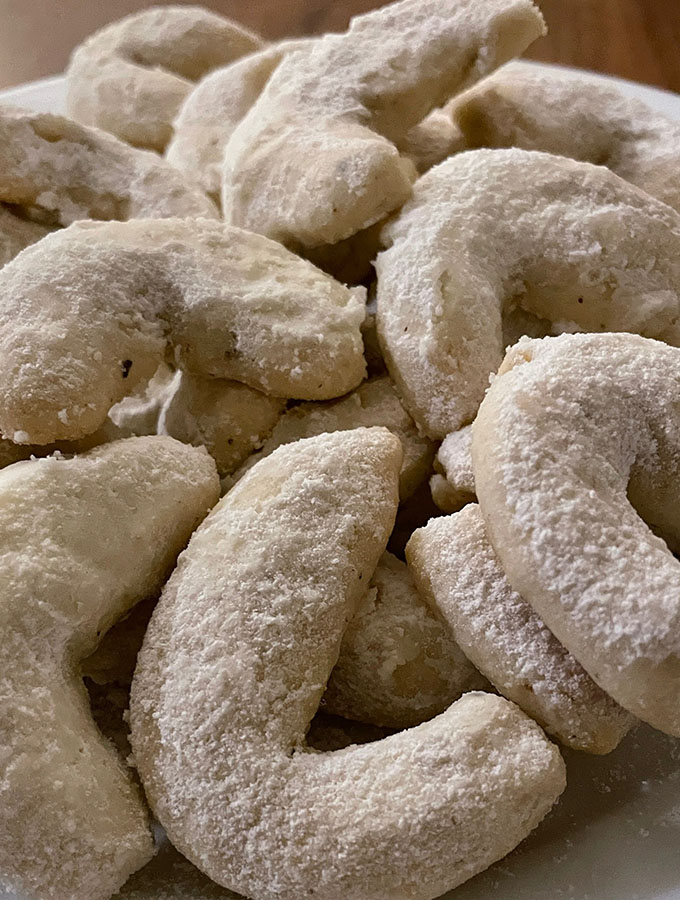 Jump to Recipe
---
A fabulously stylish woman I follow on social media recently posted a photo from a "German baking book that most German people know who were born in the 80s:" a crescent shaped shortbread cookie called "Wiener Vanillekipferl." I was so bowled over by its beautiful lunar shape and the promise of vanilla-nutty deliciousness, I decided to try and make it myself. Problem was, her recipe was in German. And, while my one term at university sufficed for the list of ingredients, the instructions in her photo remained half-hidden.
After a bit of research and a few simple tweaks, I now have a recipe for the cookie-of-the-moment in our family! We have not been able to keep these crescent-shaped, vanilla-flavoured, butter-and-nut shortbread cookies "in stock" for more than a day at a time. Good thing they're simpler to make than they look! I feel as if this holiday cookie has always been a part of our celebrations. Judging by the Vanillekipferl consumption around the house in the past week, these Vanilla Crescent Moons will undoubtedly become the every-day-is-a-holiday cookie of 2021. They're excellent with a cup of tea or a mug of coffee! And they're stellar with a classic Boulevardier!
Enjoy. Repeat.
Print Recipe
Vanillekipferl : Vanilla Crescent Moon Cookies
Ingredients
1

c

[minus 2 tbs] cold, unsalted butter, cut into 1/4 inch cubes

[200 g]

2

c

all-purpose flour

[300 g]

1/2

c

ground hazelnuts [or the nut meal of your choice]

[50 g]

1/2

c

ground almonds [or the nut meal of your choice]

[50 g]

1/2

c

icing sugar

[100 g]

1

packet

vanilla sugar

[9 grams, or 1 1/2 tsp homemade vanilla sugar]

1/2

tsp

kosher salt

2

fresh egg yolks
For the Moon-Dust
½

c

icing sugar

[100 g]

1

packet

vanilla sugar

[9 grams, or 1 1/2 tsp homemade vanilla sugar]
Instructions
Place the flour in a bowl or on a flat surface, and make a well in the centre.

Place the cubed butter in the middle of the well and mix with your hands or with a pastry blender, until the mixture resembles small peas or coarse crumbs.

Make another well in the mixture and add the ground nuts, icing sugar, vanilla sugar, salt, and, to the very centre, the egg yolks.

By hand, combine and knead the dough. After a a few minutes, it will resemble a coarse mixture. In another minute or two, it will come together into a ball of dough.

Divide the dough in half and then shape each ball into a rope about 1-1/2 inches in diameter.

Wrap each rope in plastic wrap or waxed paper and refrigerate for 1 to 2 hours [no more than 24].

Preheat oven to 350°F and line 2 cookie sheets with parchment.

Working with one roll at a time, remove the dough from the refrigerator and slice off walnut-sized pieces. Roll each piece into a 3-inch rope. Use your palm and opposite pointer finger to shape each little rope into a crescent.

Place the crescents about a half-inch apart on a cookie sheet. [I can do 24 per sheet, or about half the batch / one rope!]

Bake 12 minutes, or until the tips of each moon have just begun to brown.

While the first batch of cookies is baking, mix the 1/2 cup icing sugar with the vanilla sugar packet for the "moon-dust" and set aside before forming your second sheet of cookies with the remaining dough.

Remove the first batch of baked cookies from the oven and allow to sit on the pan for 2 minutes.

Slide the warm cookies towards each other on the centre of the baking sheet [to conserve sugar] and, using a sieve and spoon or a tea-ball, coat the tops of the cookies liberally in the sugar mixture.

Cool completely. Repeat, as above, with the second batch of cookies. And ENJOY!

Cookies may be stored in an airtight container for up to a week. Though, it's unlikely you'll have them around that long!
Notes
I use these Dr. Oetker packets of Vanilla Sugar, but feel free to use homemade or bespoke!