---
☞ CLICK HERE TO SKIP STRAIGHT TO THE RECIPE
---
THE SALT BLACK LICORICE OBSESSION
Over the holidays, on one of my early morning trips to St. Lawrence Market, I started exploring the sweets at one of my favourite bulk food vendors. Mostly, I bought chocolate for the kids: "Mozart" bonbons and the real "Special Dark" and "Hershey" miniatures from the States. But, I had a moment with the "European" bins, and I came home with a generous handful of sugar-coated Danish salt black licorice cubes.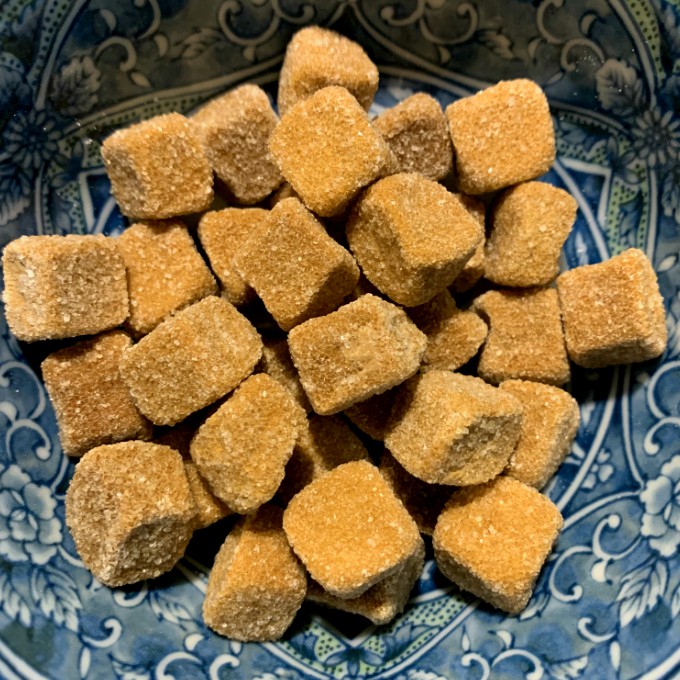 My craving for black licorice [which continues to this day] has almost outranked my desire to eat eggplant on the daily. So much so, I may have done some Dr. Googling: "Craving Eggplant / Licorice" etc. Thankfully, the search led to the New York Times, "Salt Tooth," in which Mark Binelli wonders if salt black licorice consumption contributes to the super-high Happiness Score of the Finns. Was I seeking to top up my [already positive] happiness score?
Of course, health and happiness are linked. Maybe, I was trying to keep my stomach in check while hitting the holiday feasting boards. On Vice, Theo Rogowski notes that traditional salt licorice, salmiak, which is flavoured with Ammonium Chloride mixed with "sugar, starch, wheat flour, and extracts from dried licorice root," has "anti-inflammatory and laxative properties." However, eating too much will upset your stomach, elevate your blood pressure, and promote edema. Good thing, I kept my consumption in check.
In terms of happiness, though, one thing I know for sure is that I'm much happier when I eat little to no sugar or grains. So, while "Making Salty Black Licorice" is on my Epic 2020 To-Do List, I'm going to be looking for ways to do so without the white stuff. As for the Ammonium Chloride? It's available as a food additive. Though, I'll probably start with the salts in my cupboard. I'd also like to play with flavour profiles, i.e. sourcing licorice root and anise extract [the latter of which seems to be more often used in the homemade licorice recipes I've perused thus far]. As an Italian girl, it's a no brainer to get started by making the latter.
THE VERSATILITY OF ANISE EXTRACT[S]
Anise Extract appeals to me because of its broad applications in both BAKING & COCKTAILS. I'm already dreaming of making Anise "S" Cookies when my dad flies out to help me insulate the #wyrdshed. I'd love an Anise Chai Snacking Cake, like, RIGHT NOW! Anise Nice Cream, go to! And, I'm dying to use Anise Extract as a bitter in my cocktails or as a substitute for Absinthe.
What's the difference between Extracts and Bitters, you might ask? Cocktail bitters are made with very high alcohol content of 100+ proof, while extracts need only be made with typical Vodka or Bourbon, etc. Plus, while extracts consist of a single flavour profile, bitters are generally composed of MIXES of flavours, i.e. Anise & Orange. Still, if you use a higher-proof alcohol to make the extracts, you can call them single-flavour bitters. And you can mix those with other single-flavour bitters to create your own "house" mix. I'm happy with just adding a few drops of lower-proof Anise extract to my drinks to get a very powerful flavour fix!
Now, here's the double twist: to make your own Anise extract, you can use either Star Anise or Anise Seeds. As you can see in the photograph, the stars (below) produce a slightly darker product than the seeds (above). And the tastes differ slightly. The Star Anise Extract has more of the barky taste you'd get with a cinnamon stick, while the Anise Seed Extract has a more lively, green mouth-feel. Why not try making one of each?
AT LAST, THE RECIPE!
Print Recipe
Anise Extract Two Ways
Makes TWO 125 ml/quarter-pint jars or ONE 250ml/half-pint jar
Equipment
2 Quarter-Pint Jars or other containers.
Ingredients
200

ml

Vodka

[I used Absolut. You can also use bourbon! And, if you're interested in making a true "bitter" feel free to source high-proof vodka or whisky.]

1-2

tbsp

Anise Seeds

[1 tbsp per 100 ml Vodka]

4-8

Star Anise

[3-4 per 100 ml Vodka]
Instructions
Place the 1 tbsp of Anise Seeds or 3-4 Star Anise in the bottom of a clean container with a good seal. [I used 1/4-pint canning jars.]

[If you are doubling up and using a single flavour profile, use 2 tbs Anise Seeds or 6-8 Star Anise in a single 1/2-pint container.]

Feel free to crush the Anise Seeds a bit with the back of the measuring spoon.

[No abrasion is required with the Star Anise.]

Pour 100ml of vodka over top of each jar.

Seal and allow to sit in a cool dark place for at least 2 weeks before using. 1-3 Months is preferred.

The liquid in the jars will darken over time.

At the end of several months, the herbs may be removed if desired. This is not necessary. Nor does it look as pretty.

Extracts last for at least one year at room temperature if well-sealed after each use.
Notes
©Roseanne Carrara, Smelling Salts Journal
Next stop: Licorice!