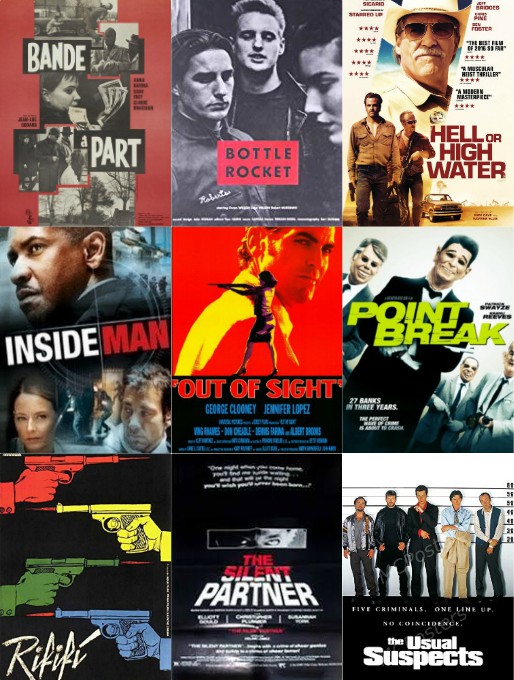 After last year's exceeds-even-our-wildest-expectations Train Movie Marathon, it took a long time to come up with a theme for this year's New Year's Eve Film Fest. Since we're looking towards 2020, we thought about roaring-twenties films. But, Gatsby? Sorry, no. Then, we considered movies in which hindsight was less than 20/20, i.e. films about memory loss or changing the past: Wild Strawberries, Memento, Eternal Sunshine…, Dead Again. Only, we figured those were a bit too blue for the beginning a new decade.
Then, we started listing movies we've seen dozens of times and still sit sit down to watch when they show up on tv, commercials and all. For me, those guilty pleasures were The Italian Job and the Thomas Crown Affair. From there, we had our theme: Heist Films. We came up with a short-list of the best heist films of all time as our must-sees for NYE 2019 (with the caveat that the movies had to be films the kids hadn't seen yet) and a long-list of our all-time favourite heist movies for the family to choose from to forge a 24-hour Heist Movie Marathon. For all we know, it may be Heist Week or Month or Year…. Welcome 2020!
---
THE DIAMONDS:
HEIST FILM MUST-SEES
[classics the kids haven't watched yet]
Bande à part, Band of Outsiders (1964, Godard)
Bottle Rocket (1996, Anderson)
Hell or High Water (2016, Mackenzie – Revenge heist!)
Inside Man (2006, Lee)
Out of Sight (1998, Soderbergh – Clooney & J. Lo!)
Point Break (1991, Bigelow – Look! A female director!)
Rififi (1955, Dassin)
The Silent Partner (1978, Duke – It's Canadian!)
The Usual Suspects (1995, Singer)
THE VAULT:
MORE OF THE BEST HEIST MOVIES
Baby Driver (2017, Wright)
The Big Short (2015, McKay)
To Catch a Thief (1955, Hitchcock)
Charade (1963, Donen)
The Fantastic Mr. Fox (2009, Anderson)
How to Steal a Million (1966, Wyler)
The Italian Job (2003, Gray)
Logan Lucky (2017 Soderbergh)
Oceans Eight (2018, Ross)
Oceans Eleven (2001, Soderbergh)
Rogue One: A Star Wars Story (2016, Edwards)
Sexy Beast (2000, Glazer)
The Sting (1973, Hill)
The Spanish Prisoner (1997, Mamet)
The Thomas Crown Affair (1999, McTiernan)
The Three Musketeers (1973, Lester)
Trouble in Paradise (1932, Lubitsch)
---
THE FEAST:
NEW YEAR'S EVE HEIST FILM FARE
I. PIZZA
Where better to hide the dough than in a pizza box?
[Sorry, just had to…]
To keep things simple, we're ordering pizza delivery.
II. MILLIONAIRE'S SHORTBREAD
As a special, make-ahead dessert, we'll whip up a batch of Cook's Illustrated Millionaire's Shortbread. It's an amazing forgery in its own right: a giant homemade Twix!
[You have to get past CI's paywall to access their recipes, but you can perform your own heist & nab the whole shebang by watching their youtube video!]
III. "INSIDE JOB" COCKTAILS
To go with, the adults are taking on the "Inside Job."
In a mixing glass sir the following with ice:
2 oz Bourbon or Rye
1⁄4 oz Maraschino Liquer
1⁄2 oz Simple Syrup
1 dash Angostura Bitters
1 dash Absinthe
Strain over an old fashioned glass loaded with fresh ice.
Garnish with cocktail cherries and an orange twist.
Happy New Year!