I'm a fan of making life as simple as possible in the kitchen. While making marmalade is bound to be time consuming and a tad complicated, the payoff is rich. You end up with a whole whack of jars to use throughout the year. And, if you've got homemade preserves around, you're almost always good to go in a gift-mergency.
The "whole fruit" method I use here is perhaps the easiest way to get from point A to point Z. You set the whole oranges at a slow boil for over an hour. This way, when it comes time to slice the rinds, etcetera, you have a soft peel to work with. [I'm a fan of whole-roasting squash, too. So, the whole-fruit method is a no-brainer for me!] The marmalade I make, resultantly, is a tad more bitter and pithy than marmalade made by prepping fruit cold. It's also chunkier, too, because, since I broke my hand a couple of years ago, I'm not as fussy with my knife. Tastes great to me.

Equipment notes: You're best off working with a food scale and a candy thermometer here. I only got a food scale a couple of years ago, when I started learning how to make pastries and marmaldes. And, I have to say, it's changed the way I cook everything. No worries about spending a fortune, either. I got my food scale for under $15.  Just make sure you get one with a "tare" button so you can subtract the weight of your bowls and measuring cups. Though, at this point, I think it would be difficult to find a scale without one.
And, let's talk temperature: The official "set point" for marmalade is 220°F. However, depending on the temperature outside or in your kitchen and the shape and "character" of your cooking vessel, things can change dramatically with each batch. Once, recently, I boiled to 220°F and, after waiting a few days to see how my marmalade set up, the entire batch was runny. No fear. I simply emptied the cans back into the pot, reheated to 224°F and re-canned. In general, I prefer a thicker marmalade, so I tend to cook until the mix is fairly hot and firm, in the 222-223°F range. As much as I like citrus "sauce" or "syrup," I'd rather thin a too-thick marmalade as needed, by the jar, with hot water or a quick visit to the stove. An extra way to tell if marmalade has set it to place a plate in the freezer before you start cooking, place a spoonful of the boiled marmalade on the plate, and set it back in the freezer for a few minutes to see if it "ruffles" or "wrinkles" when you push the edges with your finger.
So, set an afternoon aside for this, loves. Invite a neighbour to join and make "duelling" batches on the stove. Put on a fave movie while you're preparing your peel. Enjoy the high-class steam facial that comes along with water-bath canning. And, reap the rewards all year long.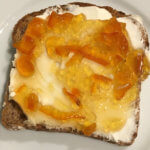 Print Recipe
Chunky, Bitter, Pithy, Seville Orange Marmalade [Whole Fruit Method]
Ingredients
Seville Oranges* [8-10 large sevilles

about 1.5-2Kg, or 3.5-4.5 lbs. No need to be exact]

Water

Juice of 3 medium lemons [about 1/3 cup]

Sugar [one 2 kg bag]
Instructions
Place the oranges into a large, heavy-bottomed pot.

Cover the oranges in water. [If they bob up a lot, you might choose to weigh them down with a plate.]

Cover the pot and bring the water to a boil.

Then, simmer on medium-low heat for 90* minutes, until fork-tender.

Place a large bowl on a food scale and set to tare.

Reserving the cooking water, carefully move the fruit to the bowl and weigh it, keeping track of the measurment. [Mine was 2 kg.]

Remove the bowl of oranges from the scale.

Place a clean, empty bowl on the scale and set to tare.

Fill the bowl with the lemon juice.

Then, add enough of the cooking water to equal the weight of the oranges after boiling. [Mine was 2kg]. If you don't have enough, use water from a tea-kettle.

Measure and set aside an equal amount of sugar. [I used a 2kg bag.]

Get out a rimmed cutting board or place a cutting board inside of a big tray or baking sheet.

Get two bowls out, one large one for collecting the juice and insides of the oranges, one small one for collecting the seeds.

Over the large bowl, halve the oranges so that most of the juice escapes into the bowl.

Then, scoop the insides of each orange half.  

Place the pulp into the large bowl with the juice. But, remove and sort the seeds into the smaller bowl.

Thin-slice or dice the peel.

Pour any juice from the cutting board into the juice-and-pulp bowl.

Discard the seeds.

Place the following back into a wide, heavy-bottomed pot or saucepan: the juice and pulp from the oranges, the sliced or diced peel, the reserved measured lemon juice and cooking water, the measured sugar.

Attach a candy thermometer to the pot.

Bring the marmalade to a boil, uncovered, and cook briskly, stirring frequently, until the mixture thickens, darkens, and reaches a minimum of 220°F and no more than 224°F.**  [This may take 20-30 minutes, this may take 90 minutes. It all depends upon the day, the weather, your ingredients and how thick you like your marmalade.]  

Remove the pan from the heat.

With a spoon, skim off any bubbles, scum, or wayward seeds.

Ladle the marmalade into hot, sterilized jars, leaving about 1/4 inch headspace. Of course, I like to keep a small bowl of marmalade out to the side to sample as soon as it cools.

Seal the jars and process in a hot water bath for 7-10 minutes. Allow jars to cool for at least 24 hours. It sometimes takes 2-5 days for marmalade to set. If, after that time, the mixture is not as thick as you'd like, re-boil 1-2 degrees above the previous temperature and re-jar.  
Notes
*You may use whole frozen Sevilles for this recipe. Only, boil for approximately 2 hours.**An extra way to tell if marmalade has set it to place a plate in the freezer before you start, place a spoonful of the boiled marmalade on the place, set it back in the freezer for a few minutes and see if it "ruffles" or "creases" up when you push the edges with your finger.