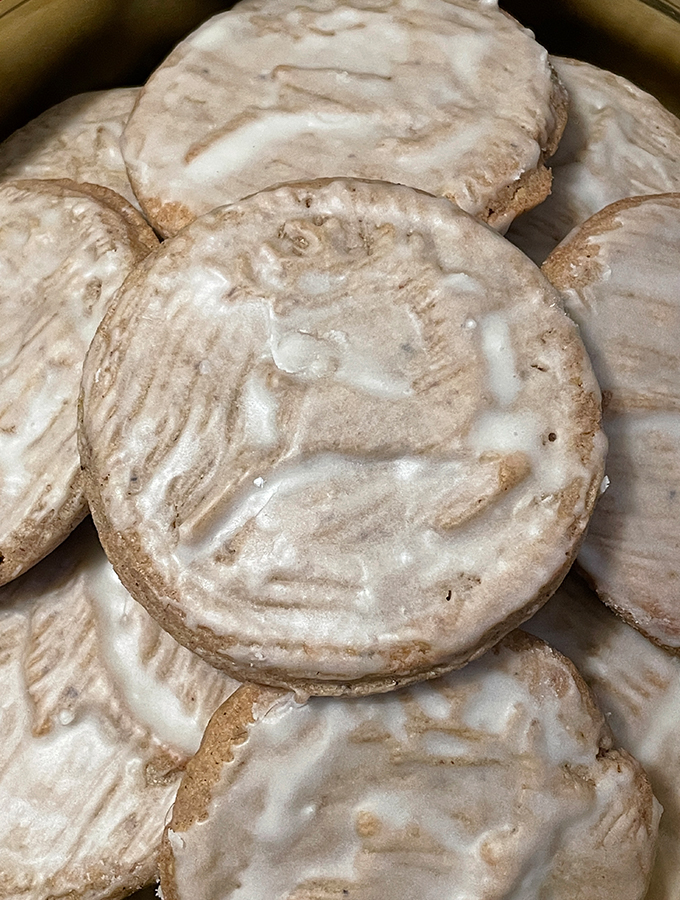 One of our Advent Cookie Baking Challenges for today was to develop a recipe for Speculoos. Truth be told, we've been working on this recipe since well before we made a test batch on St. Nicholas Day. Our version is a bit softer than the classic crisp cookie [all you have to do is bake longer for a crisp cutout] and it is glazed in the manner of those addictive bagged Mother's Oatmeal Cookies you find at the grocery store, or close. Sure, you sight of some of the definition given by your cookie stamp or cutter, if you're using one. But we prefer the taste of iced Speculoos! Again, as with our Springerle, we're using Baker's Ammonia as a leavening agent. However, you can simply omit it or swap it with 1/4 tsp baking soda if you are so inclined. Enjoy!
Print Recipe
Glazed Speculoos
Servings:
30
Stamped Cookies
Equipment
Cookie Stamps and a Plain Cookie Cutter or Knife to Trim the Edges or a Wooden Windmill Cookie Mold and a Knife [see notes]
Ingredients
Speculoos
½

tsp

Baker's Ammonia

[may be omitted or substituted with ¼ tsp baking soda added to the dry ingredients instead of the wet]

3+

tbsp

heavy cream, half & half, or milk

1

cup

unsalted butter, room temperature

2

cups

brown sugar

¼

cup

granulated sugar

1

tbsp

lemon or orange zest

2

eggs

2

tsp

vanilla

½

cup

almond meal

[may be substituted with any nut flour]

½

cup

hazelnut meal

[may be substituted with any nut flour]

3½

cups

all-purpose flour

½

tsp

salt

1

tbsp

cinnamon

1

tsp

nutmeg

1

tsp

ginger

½

tsp

cloves

½

tsp

cardamom

½

tsp

anise

¼

tsp

allspice
Glaze
1

cup

icing sugar

[ie powdered sugar]

2

tbsp

butter, melted

2+

tbsp

cream, half & half, or milk

[lemon juice may be used in lieu of dairy, though it does mask a bit of the flavour of the cookie]
Instructions
Speculoos
In a pinch-bowl, mix the ½ tsp of Baker's Ammonia with 1 tbsp of the cream and allow to sit while preparing the remaining ingredients.

In a small bowl, combine the all-purpose flour, salt, and spices, and set aside.

In the bowl of a stand mixer, beat the butter and sugar until light and fluffy.

Add the liquified Baker's Ammonia and the remaining 2 tbsp of cream and mix to combine.

[The dough now contains ammonia! From this point on, do NOT eat the raw dough! Wait until the cookie is baked and the ammonia evaporated!]

Add the eggs and mix to combine.

Add the nut flours and mix to combine.

Add the flour, salt, and spices by the ½ cup measure and mix to combine.

If the cookie dough is mealy instead of soft and pliable, add cream by the ½ tablespoon until it forms a pliable dough.

When the dough is pliable and comes together in a ball, press into a disc on a large square of plastic wrap, wrap well and refrigerate. [Or cover a mixing bowl and refrigerate.]

Refrigerate the dough for 3-4 hours.

Flour a work surface and keep additional flour around for cookie cutouts.

For Cookie Stamps:

Gather an approximately 1-inch ball of dough and press it into a disc on a floured work surface. Press the dough with a cookie stamp and use a plain circular cookie cutter or a knife to trim the edges.

For Wooden Windmill Cookie Molds:

Oil the cookie mold before beginning. Flour the cookie mold before every single use. Gather an approximately 1-inch ball of dough. Press the dough into the windmill shape until it is completely full. Run a sharp knife along the back of the cookie mold. With the cookie-side down, slam the cookie onto a parchment lined cookie sheet until it is released.

Place stamped or cut cookies on a parchment lined tray and refrigerate for 1 hour or freeze for 20-30 minutes. If you need to set them aside for longer, cover with plastic wrap or parchment.

Place cookies 1-2 inches apart on a parchment lined sheet.

Bake for 10-12 minutes for soft cookies, 12-14 minutes for crisp cookies.

Transfer cookies on their parchment to cooling racks and cool completely.
Glaze
Combine the Icing Sugar and Melted butter with a fork or small whisk.

Whisk in the milk or cream [or lemon juice] by the tablespoon until a thin icing has formed.

Use a pastry brush to glaze the cooled cookies.

Allow the glaze to set for 30-50 minutes or until firm enough to store.

Cookies may be containerized and stored for 1-2 weeks.