Oh, look at sweet sweet Julia throwing icing sugar on her classic yule log cake, which has already been covered in meringue-mushrooms and lain in a manger of festive laurels. Over the past seven years, I've made all sorts of Bûches de Noēl: Chocolate Mint, Chocolate Malt, Chocolate Hazelnut, Cannoli, my odds-on favourite Lemon with Mascarpone, Gingerbread, and traditional Chocolate with Coffee Cream.
This year, we're throwing out the cake pan and making a yule log of a different sort: an assemblage of chocolate dipped oatmeal cookie ice-cream sandwiches. That's right. We're creating the gourmet version of my favourite California ice-cream novelty: the It's-It ice-cream sandwich. And then we're sandwiching the sandwiches all together with an easy whipped cream icing for a yule log like never before!
Voila! The Chocolate Covered Oatmeal Cookie Ice Cream Sandwich Bûche de Noël!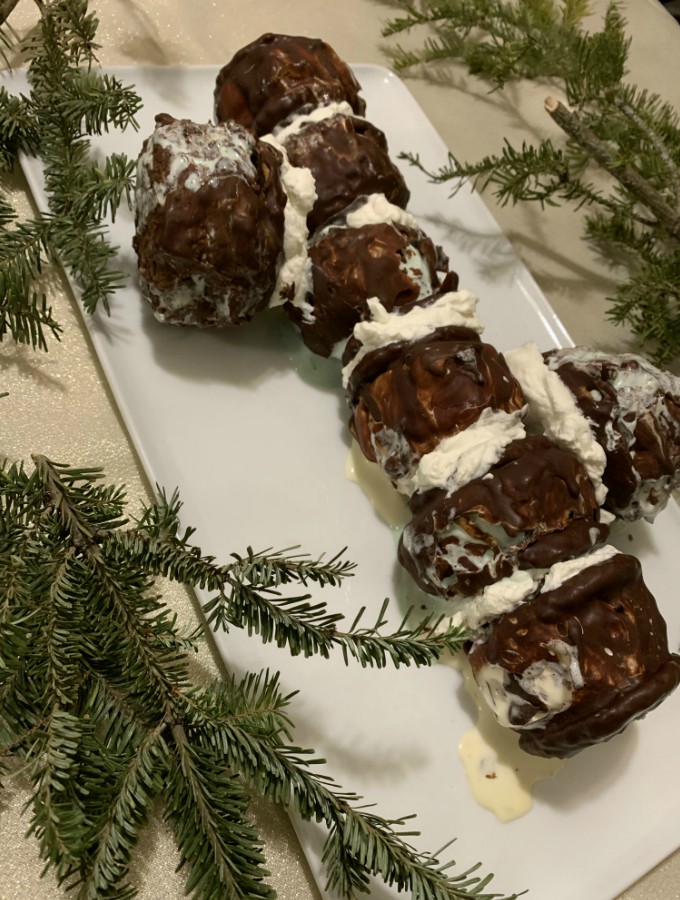 Print Recipe
IT'S-IT Style Chocolate Covered Oatmeal Cookie Ice Cream Sandwich Bûche de Noël
Serves 8
Ingredients
Ice Cream
~1.8 Litres of Ice Cream any flavour. Straight flavours or those with finer chopped mix-ins are the best. We used Roasted Marshmallow and Mint with fine chips.
SSJ's Best Oatmeal Cookies [the half recipe]
Makes 20-22 You will 18-20 for the recipe

1/2

cup

butter softened

3/4

cup

brown sugar

1/2

tsp

baking soda

1/2

tsp

cinnamon

1/16

tsp

cloves

1/16

tsp

nutmeg

1/2

tsp

salt

1

egg

1/2

tsp

vanilla

3/4

cup

all-purpose flour

1 1/2

cups

quick-cooking oats or rolled oats [but not minute oats]
Gourmet Chocolate Shell
8

oz

[225 grams] semi-sweet or dark chocolate

6

tbs

[100 grams] coconut oil

1-2

generous pinches Maldon flake or other sea salt [OPTIONAL]

2

tsp

pure vanilla extract
Whipped Cream Frosting [For the Buche de Noel] – halve?
1

cup

heavy cream

2

tbs

sugar

1

tsp

vanilla
Preparation Essentials
9

x13x2 Glass or Metal Baking Pan

Plastic Wrap

3

inch

Biscuit Cutter

Wire Racks
Instructions
Prep and Portion the Ice Cream
Allow ice cream to soften in its container on the counter for 20-30 minutes until it is soft enough to push with a spreader.

Line the tin/baking pan with plastic wrap.

Spread ice cream to 1 or 1 ¼ inch height across the baking sheet.

Freeze for 1-2 hours.

Cut 8 circlets with the 3-inch biscuit cutter.

Rewrap each circlet in plastic.

Freeze for at least 2 hours.
Make the Cookies
Preheat oven to 350°F.

In a stand mixer or large bowl beat butter on medium to high until softened.

Add brown sugar, baking soda, spices, and salt and beat until combined.

Beat in eggs and vanilla, scraping the sides of the bowl if necessary.

Beat in the flour.

Beat in the oats.

Drop dough onto parchment-lined cookie sheets by proper tablespoonfuls (not rounded) 2 to 3 inches apart.

Bake until lightly browned at edges and set in the centres, approximately 10 minutes.

[If cookies are larger than 3 inches, trim with a biscuit cutter while still warm]

Cool on cookie sheets for 2 minutes.

Transfer to a wire rack & cool completely.
Make the Chocolate Shell
Over a double-boiler or in 20 second medium-power bursts in the microwave, melt the chocolate and the oil.

Add the salt and vanilla and stir to combine.
Assemble the Sandwiches
Place 8 cookies down on wire rack.

Place a circlet of ice cream over the top so that it extends evenly over the edges of the cookie.

Place a second cookie on top of the ice cream circlet.

Pour the chocolate shell over the tops of the ice cream sandwiches.

Dunk the bases of the cookies in a bowl of the magic shell, or flip and pour again.

Return to freezer to harden completely, 15 minutes to an hour.
Make the Whipped Cream Frosting
In the bowl of a stand mixer, combine the heavy cream, sugar and vanilla extract.

Using the whisk, whip on medium-high for 2-3 minutes, until the cream is fluffy and holds a medium-firm peak.
Assemble the Bûche de Noël
One at a time, use a bit of whipped cream to attach six ice cream sandwiches end to end to create a "log."

Then, attach the final two sandwiches as "knots" on towards the top and bottom of each side of the "log."

Decorate with additional frosting in a piping bag if so-desired.

Cover well and freeze until ready to serve.

Allow to sit for 10-15 for cookies to thaw before serving.
Notes
For best results enjoy the assembled sandwiches and cake within 0-3 days of assembly. Allow the Bûche de Noël to thaw for 10-15 minutes before serving so that cookies aren't rock solid when you bite into them.
You can also find individual recipes here for 1) IT'S-IT STYLE CHOCOLATE COVERED OATMEAL COOKIE ICE CREAM SANDWICHES; 2) SSJ'S BEST OATMEAL COOKIES; & 3) GOURMET CHOCOLATE SHELL.